Give your specialty vehicles sales team the tools to excel with CPQ.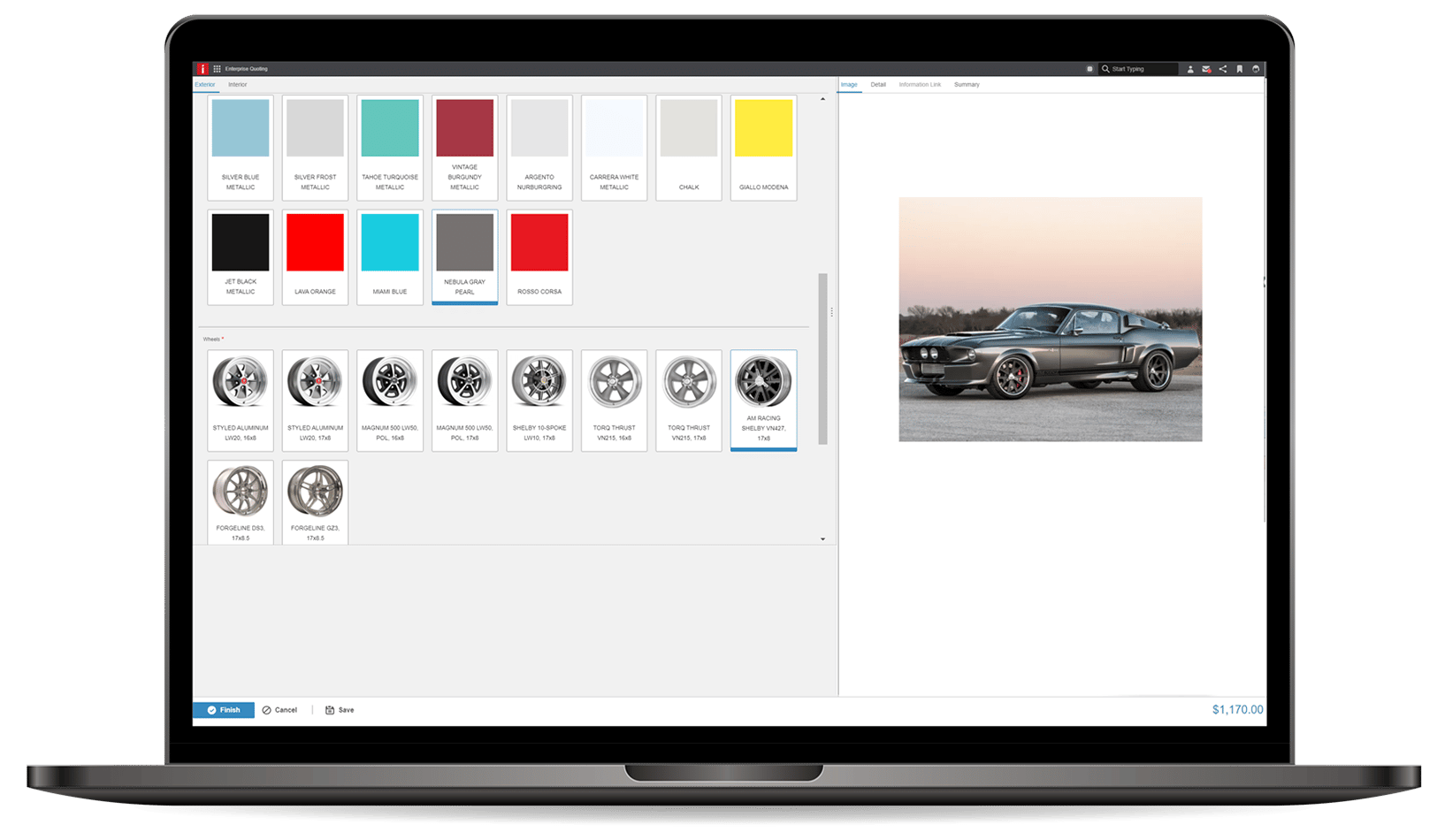 Help keep customization

clean & organized
Infor Configure Price Quote (CPQ) delivers a platform to provide the distinctive and varied requirements of a specialty/emergency vehicle provider. These vehicles are complex in detail and in need. However, Infor CPQ is known for its aptitude in offering and organizing custom orders despite complexities.
Infor CPQ is the perfect quoting solution for manufacturers of ambulance and/or fire trucks, buses, RVs, tractors and accessories and trailers and liftgates.
Ready to talk with an industry specific technician?
Set up a convenient time for you to view options that best suit your needs.
Dive into CPQ for Specialty Vehicles
Flexibility, agility, and innovation to stay ahead of the competition.
The Options Are Endless
Whether for recreation or safety, specialty vehicles are in demand. There are thousands of private, commercial, industrial, and governmental niche markets for vehicles required to accomplish highly-specialized responsibilities like mobile veterinary clinics, bloodmobiles, command centers for police and fire departments, crime scene labs, and even luxury buses for travel. Tier 1 manufacturers like GM and Ford don't undertake these vehicles due to the unique complexities of each vehicle. Only specialty vehicle manufacturers can provide customers with exactly what they need.
Efficiency To Compete With
The precise and particular needs of specialty vehicle manufacturers are met easily with Infor CPQ's processes, rules, constraints, and price quoting data. The software allows you to create detailed, comprehensive product models so that both customers and production know exactly what is being created.
In order to streamline the entire process, from customer selection to delivery, Infor CPQ easily integrates with CRM, ERP, and CAD applications. With this data ecosystem, information only needs to be input once, and anyone will have access to it from any system or on any platform, in real-time.
Step-by-Step Consultation
New members of your sales team will be selling like old pros in no time thanks to a guided selling and quoting process. All options are presented in an organized, detailed way. Sales representatives and customers can cycle through relevant technical specifications of selections, such as storage options, seating choices, engine types, and other options in a way that is efficient and productive so that the customer gets exactly what they want. Because the CPQ tool has a rules-based configuration engine, invalid configurations won't be an option, so you won't make promises you can't keep.
Take Out The Guessing For Your Sales Team
In order to make specialty vehicle sales manageable and efficient, Infor CPQ operates with a guided-selling portal. Once a customer had selected their vehicle choices, your sales team can login to create a quote, request manufacturing approval, and store dealer documentation. Because it is all within the CPQ portal, accurate quotes are created with correct and detailed product configurations. These quotes can then go through an approval phase of your choosing before being sent to the ERP.
Professional Documentation
Documents for bids, proposals, and quotes can be completed automatically, incorporating necessary information like product and product images, as well as pricing. Any necessary changes can be done in just a few clicks. You can select the layout and design of these documents in order to have a uniform, professional display.

Visualization To Enhance Customer Experience
Help customers to make their decisions by showing them exactly what they will receive. 2D and 3D product representations will increase customer interest and the likelihood they will purchase. Because these vehicles are often so unique, customers don't just get to wander a sales lot and find what they need, so these visual representations will allow them to evaluate and decide with more confidence. They will be able to see clearly, and not just take your word, that dimensions will fit and a vehicle can be used exactly as it is needed to be.
ERP Integration Means Time Saved
When your ERP and CPQ tools work together, processes are streamlined and simplified. The sales team will have information regarding product availability, time lines, and updated costs, and the work floor will know exact specifications and have visual directions. Things like order entry, accuracy, and billing will all be simplified, and manual administrative work will be minimized because you'll have complete visibility into all vehicle options, real-time cost and availability data, and up-to-date detailed customer information.
Provide A Wide Array of Options
The CPQ tool ensures that your customer gets optimum customization for their needs, and remembers these combinations. Perhaps the mobile veterinary office needs tires to be prepared for different seasons and weather conditions due to the location and the terrain it covers. Tractors and other vehicles used around a farm may need to be prepared to work in different types of soil. Infor CPQ allows you to organize and save core configurations for vehicles, which means that if a customer wants to reorder a vehicle, it is already in the system. Or, if they want to use a previous order as a jumping-off point, you don't have to start from scratch.
Easily Navigate Material Price Volatility
As your sales team and customers work to configure a vehicle, the price will be visible for each step of the configuration, helping your customer to make their decisions. This is thanks to the rules-based Infor Product Configurator. Also, the Infor Sales Portal can capture multiple supplier price books. This ensures that your pricing is fast, flexible, and accurate, and thanks to the guided sales feature, as the customer is going through choices, less expensive alternatives can be easily found when necessary.
A Specialty Vehicle CPQ Solution Brings Loyalty
Help keep customization easy and organized. Infor Configure Price Quote simplifies the process of customization so that your customers' needs are met quickly and efficiently. Customers will have ownership during the whole process, therefore making sure they get the exact vehicle they need. In addition, your sales team will be able to respond to bids faster and with focus. When their process is more streamlined, it gives them more time to build relationships with customers. With Infor CPQ, customers will receive exactly what they want at the promised time, which means customer loyalty despite a competitive market.