Give your high tech instrumentation sales team the tools to excel with CPQ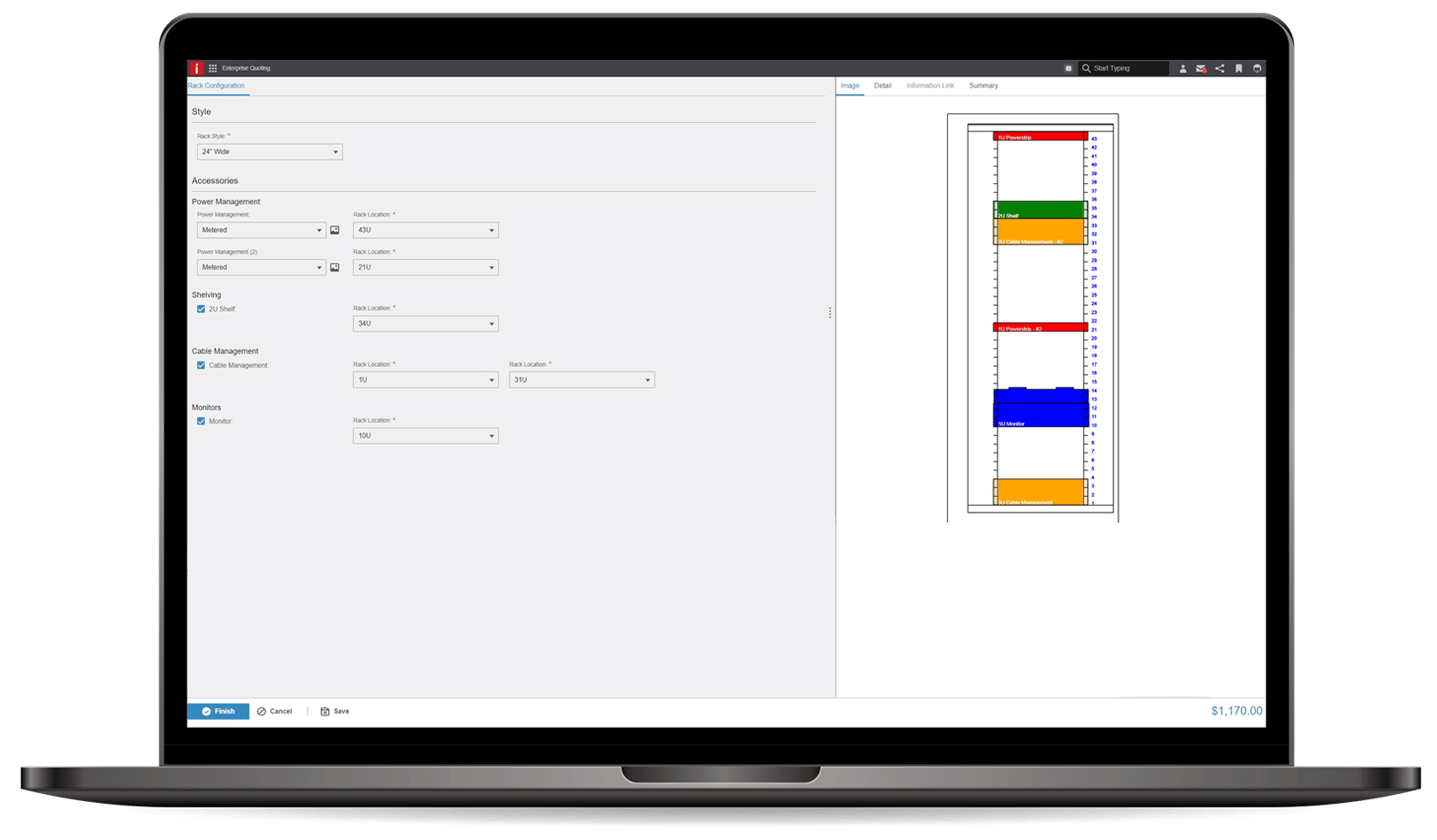 CPQ

simplifies the complicated
The industries of medical equipment and high-tech instruments push the limits of what can be done every day. Because of this, the products are unique, with specific modifications and customizations. The rules-based configurator in Infor Configure Price Quote (CPQ) simplifies what would otherwise be a complicated ordering experience.
Infor CPQ Efficiently Serves:
Actuator and Custom Gauge Manufacturers

Laboratory Instrument Manufacturers
Made-to-Order High-Tech Instruments

Temperature Sensor Manufacturers
Ready to talk with an industry specific technician?
Set up a convenient time for you to view options that best suit your needs.
Dive into CPQ for high tech
Flexibility, agility, and innovation to stay ahead of the competition.
Infor CPQ Software Provides Support
Your sales team will have access to the data and information needed to address the requests of your customers thanks to CPQ. From pricing to timeline, requirements and availability, medical device and high-tech manufacturers will be assured to generate the exact product their customers need.
Promote Efficiency with Guided Selling
Infor CPQ removes the guess work. Necessary options and restrictions are already applied to every product/instrument available during the quoting step-by-step process. Your sales team does not need to worry about rules and compatibilities because the CPQ tool will, and this means that the training process for your sales team will be less intensive because the CPQ will guide even a novice. Order errors and unsatisfactory products will be obsolete.
Easier Training and Performance
Infor CPQ will give your less experienced sales team members the confidence to sell like a seasoned pro. Product offerings and pricing will be presented in an easy-to-follow process. Notes, feedback, directions, and other valuable sales experiences and strategies from experienced sales reps can be saved in the tool in order for new hires to have access to it. Everyone on your sales team will be able to provide your customers with the answers and products that they need.
Efficiency for Distributors
Become a well-oiled machine not only with customers, but with distributors as well. Infor CPQ allows you the agility and organization to become the simplest medical device manufacturer to work with. Choice and efficiency are promoted because distributors can input their services and add-ons in order to produce a simple, integrated quote.
Easily Update or Add Offerings
When products become obsolete, Infor CPQ makes it easy for you to quickly and efficiently manage transitions to the new and improved. Presentations of new, major products or even minor upgrades to older ones can be rolled out according to your plan and timing. Price changes and sales strategies can be updated at any time.
Customer Satisfaction is Priority
When your sales team has been empowered with the information it needs, the customer will feel confident in the process. CPQ promotes efficiency, accuracy, and time-saving. Without guess work and delays, the customer will receive exactly what they ordered on time.
Consistency in Quality
Despite complex customizations, customers expect a high level of quality from high-tech instrumentation and medical devices, and Infor CPQ makes it possible to attain that level every time thanks to things like 2D images and 3D models. On the customer side of things, Infor CPQ captures the exact requirements and presents them to the customer in order to receive confirmation of the product. Then, Infor CPQ automates the creation of a BOM and the instructions to build each product, ideally sending it to the ERP system for seamless production.
Next-Level Innovation
With Infor CPQ, your engineers and designers can focus on their strengths of creating while your sales team allows the CPQ tool to overcome any product development challenges of the lighting or electronic device industries. When engineers are freed from the selling process, they can work on new innovations that allow your company to remain ahead of obsolescence and get regulatory approval on time.
Consistent Buying Experience
Regardless of which sales rep a customer is speaking with, which customer service agent they are on the phone with, or what page of your website they are perusing, customers need to receive the same information. Infor CPQ ensures your products are represented exactly the same way regardless of the platform the information came from. This consistency and cohesion will put your customers' minds at ease. Quality begins with customer service, and Infor CPQ allows your customers the best quality from the first meeting to the receipt of product.
Get Started Today
Infor Configure Price Quote for lighting and electronic device companies provides tools that will allow you to build customer relationships, reduce costs and time, and excel overall.