Give your furniture & fixtures sales team the tools to excel with CPQ.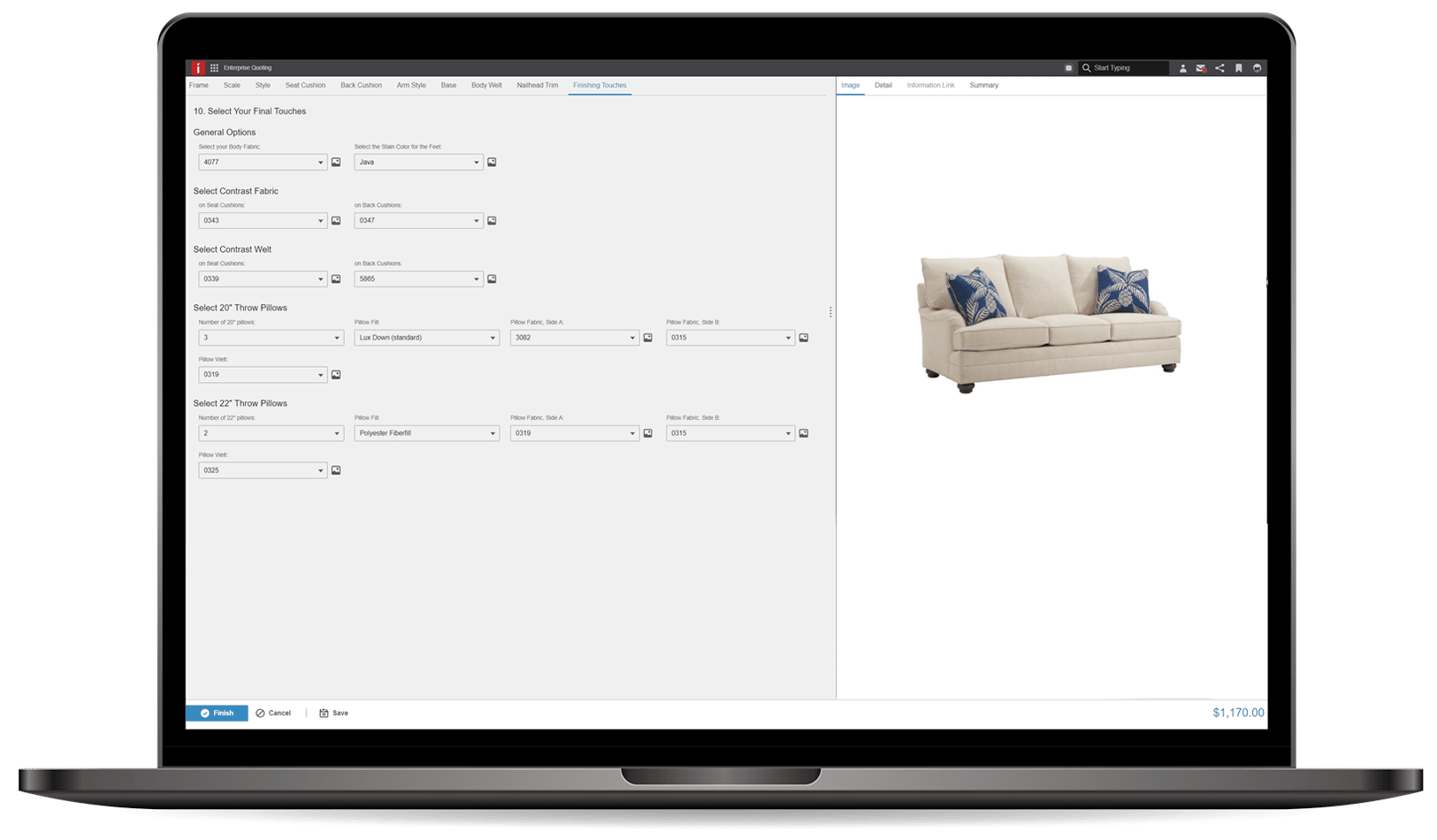 Helping customers

 visualize
Colors, textures, patterns, sizes, and more are all part of the selection process when it comes to furniture building. Some clients can visualize exactly what they want, and others need a good deal of help to decide what features blend well with each other. The way to ensure consistency and quality for a furniture aesthetic is to organize your product options in your CPQ tool.
Infor CPQ is an ideal customization answer for custom furniture manufactures, custom mattress makers, custom lighting manufactures and custom builders.
Ready to talk with an industry specific technician?
Set up a convenient time for you to view options that best suit your needs.
Dive into CPQ for Furniture & Fixtures
Flexibility, agility, and innovation to stay ahead of the competition.
Offer Customization Quickly
Anyone on your sales team, new or veteran, has the information they need to find the customer's requested configuration of color, color, fabric, finish, and hardware quickly and effortlessly.
Offer Visualization For Your Customers
They say that seeing is believing, so help your customers to believe that your products are exactly what they need by allowing them to see the item long before it is created for them. From furniture to window treatments, enhance the customer's experience with Infor CPQ, which can produce 2D images or 3D models of your furniture and household products.
Easily Update Products and Pricing
Keep your product line up up-to-date and impressive thanks to CPQ. Use the technology to unveil new customizations like dimensions, fabrics, and finishes and update pricing as needed, whether due to a promotion or because of a necessary change. Impress your customers with the organization and innovation that will keep them coming back to see what you will offer next. Infor Configure Price Quote solutions allow furniture and fixture manufactures to keep their focus where it needs to be- on making sure the customer gets exactly what they need, sometimes before they even know they need it.
Automate Instructions
The Infor CPQ tool easily works with your company's ERP system and can dynamically create bills of materials (BOM) and manufacturing instructions as soon as a customer says go. These instructions can be stored in the system with instructions for future orders, and to make sure these instructions are followed to the letter, the CPQ tool can also generate 2D drawings and 3D models of products and assembly instructions so that the team on the shop floor knows exactly what to create. Again, each step of the process has been streamlined for efficiency.
Minimize Labor
When things are done correctly the first time, the need for labor-intensive work goes down. Your CPQ will be equipped with a rules-based BOM process that allows you to avoid the labor-intensive creation of the myriad of parts or options with all possible combinations of product choices. Due to the fact that manufacturing instructions only need to be recorded the one time, now product innovations can be introduced more quickly and the production of price books is no longer necessary at all. The CPQ can also configure furniture sets. This is all much more streamlined because you won't have to rekey the orders if your ERP system is integrated with your CPQ tool.
Satisfied Customers Remain Customers
Avoid dissatisfied customers thanks to a CPQ tool's ability to help you make the right product exactly on time. Infor CPQ allows for customized orders to be highly accessible, and because you are able to automate order entry at high volumes, you can get to production even faster.
Software for Strategic, Innovative Furniture Manufacturers
Infor CPQ solutions will help you put the customer first. Increase your sales, reduce time lost and inefficiencies, and help your company stand out. Let your technology help prove you are the best to go to for furniture needs.