Give your oil & gas sales team the tools to excel with CPQ.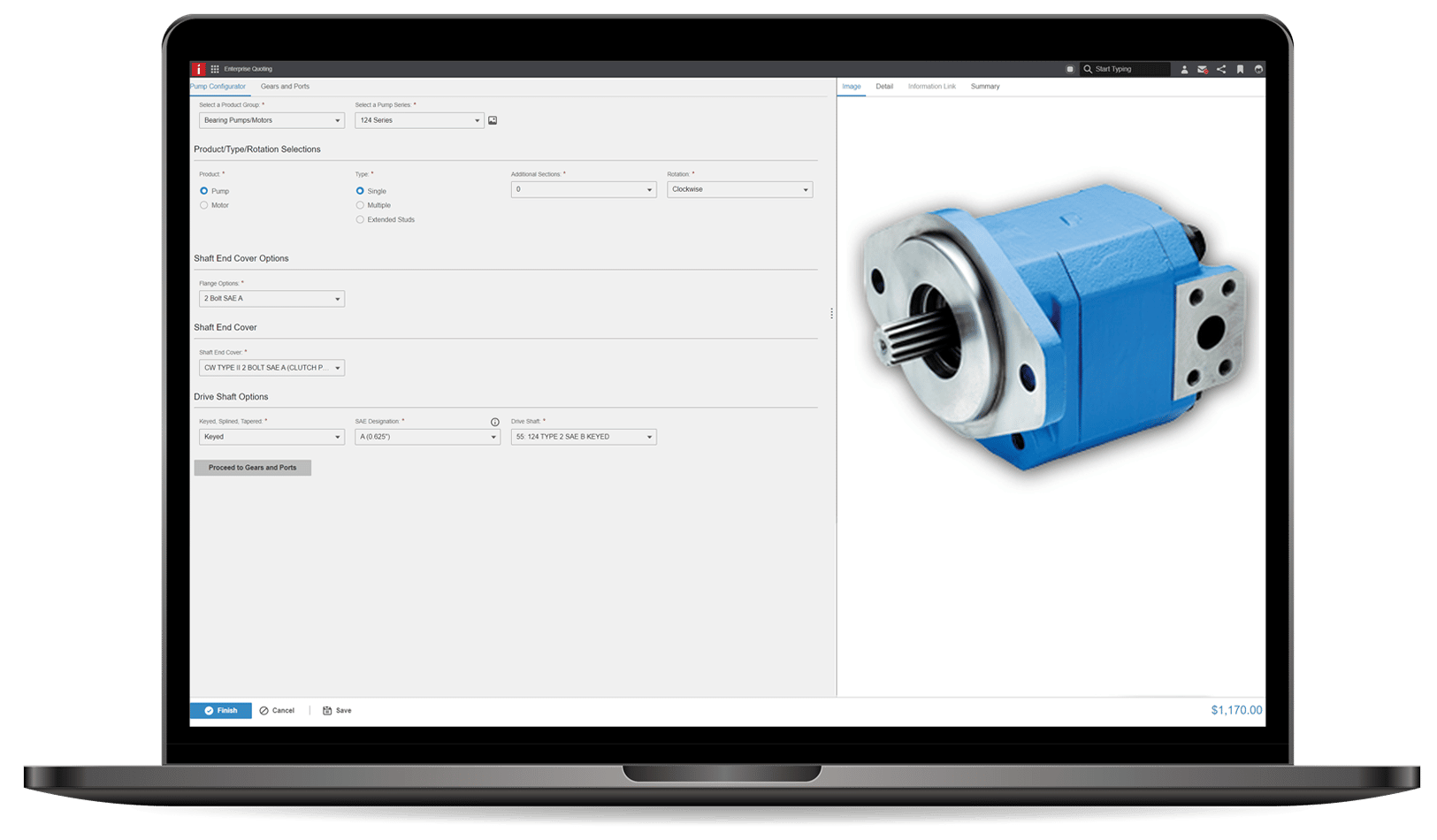 CPQ Eliminates

Errors and Inefficiencies
The oil and gas industry fluctuates every minute due to customer demand and raw material pricing. Your company needs something just as dynamic to maintain efficiency and consistency. Infor CPQ delivers visibility into customer buying preferences, price, and product availability. Despite market-driven volatility, CPQ provides operational security in many ways.
Revenue Assurance: When pricing and quoting are done well, companies are able to accurately capture revenue for all services and products rendered
No Code Integration: Easily accessible thanks to native integration with SaaS and local applications using an integration platform; also easily adaptable to ERP and other tools that allow for maximum productivity and customer service
Interactive Customer Portal: Allow customers access to information any time, or to place orders any time, from anywhere, whether at the rig site or not
Ready to talk with an industry specific technician?
Set up a convenient time for you to view options that best suit your needs.
Infor CPQ Offers a

Winning Formula
for Oil and Gas Sales
Save yourself, and your customers, time by allowing a CPQ tool to analyze and incorporate various sources of data into your pricing in order to find pricing and value for your customers that is accurate in real-time.
Personalized, accurate, and timely.
Businesses of oil and gas distribution rely on CPQ to deliver tailored offer recommendations to their buyers, through all possible sales channels, resulting in greater sales at higher margins.
CPQ allows even the most complex order to be personalized, accurate, and timely. It eliminates errors and inefficiencies and allows the focus to be put back on customers, resulting in more profitable transactions.
Dive into CPQ for Oil & Gas
Flexibility, agility, and innovation to stay ahead of the competition.
Optimize Sales
With CPQ, your business can optimize pricing by keeping in mind market position, commodity costs, rack and street margins, and brand strength.
Optimize Pricing
In real-time, have accurate insight and analysis into pricing outcomes, models, and forecasts.
Optimize Your Team
Allow your team access to accurate and complete data. Infor CPQ's guided selling feature allows even novice team members to maneuver the sales procedure so all choices are available as well as upselling features. Quick quoting and proposal generation make for timely and professional sales documentation for customers.
Optimize Customer Engagement

Infor CPQ allows for customization as well as speed and precision. Ensure your customers get exactly what they need exactly when they expect it. Customers are presented with all possible options and alternatives, as well as a detailed breakdown in pricing and an accurate timeline.
Promote Efficiency with Guided Selling
Infor CPQ removes the guess work. Necessary options and restrictions are already applied to every product/instrument available during the quoting step-by-step process. Your sales team does not need to worry about rules and compatibilities because the CPQ tool will, and this means that the training process for your sales team will be less intensive because the CPQ will guide even a novice. Order errors and unsatisfactory products will be obsolete.

Sales opportunity insights; allow the guiding sales feature to highlight upselling and advanced feature opportunities, or roll out sales opportunities on your timeline

Vigorous product catalogs offer opportunities for searching and personalized cross sales recommendations


Product and service configurations that can be simple or complex based on the customers' needs; another benefit is that the information only needs to be entered once, and when the customer orders again, past orders can be used as a springboard

Powerful quote management, despite complexities
Streamlined and professional sales agreements, organized in one location, by leveraging workflows for lifecycle management of customer contracts and sales agreements


Modern automation, eliminating manual data entry by automatically creating contracts and amendments

Blockchain ledger that automates performance payments


Single sign-on (SSO) that utilizes one set of logins to access multiple applications; another benefit is that regardless of where the customer is accessing the information- website or sales team rep- it will be the same
Organized and accurate data; everything your sales team needs to know is organized into one place, allowing them the confidence to respond to customers' questions quickly and saving their time for building relationships with the customers
Get Started Today
Infor Configure Price Quote for oil and gas distribution companies provides tools that will allow you to build customer relationships, reduce costs and time, and excel overall.