Give your architectural supplies sales team the tools to excel with CPQ.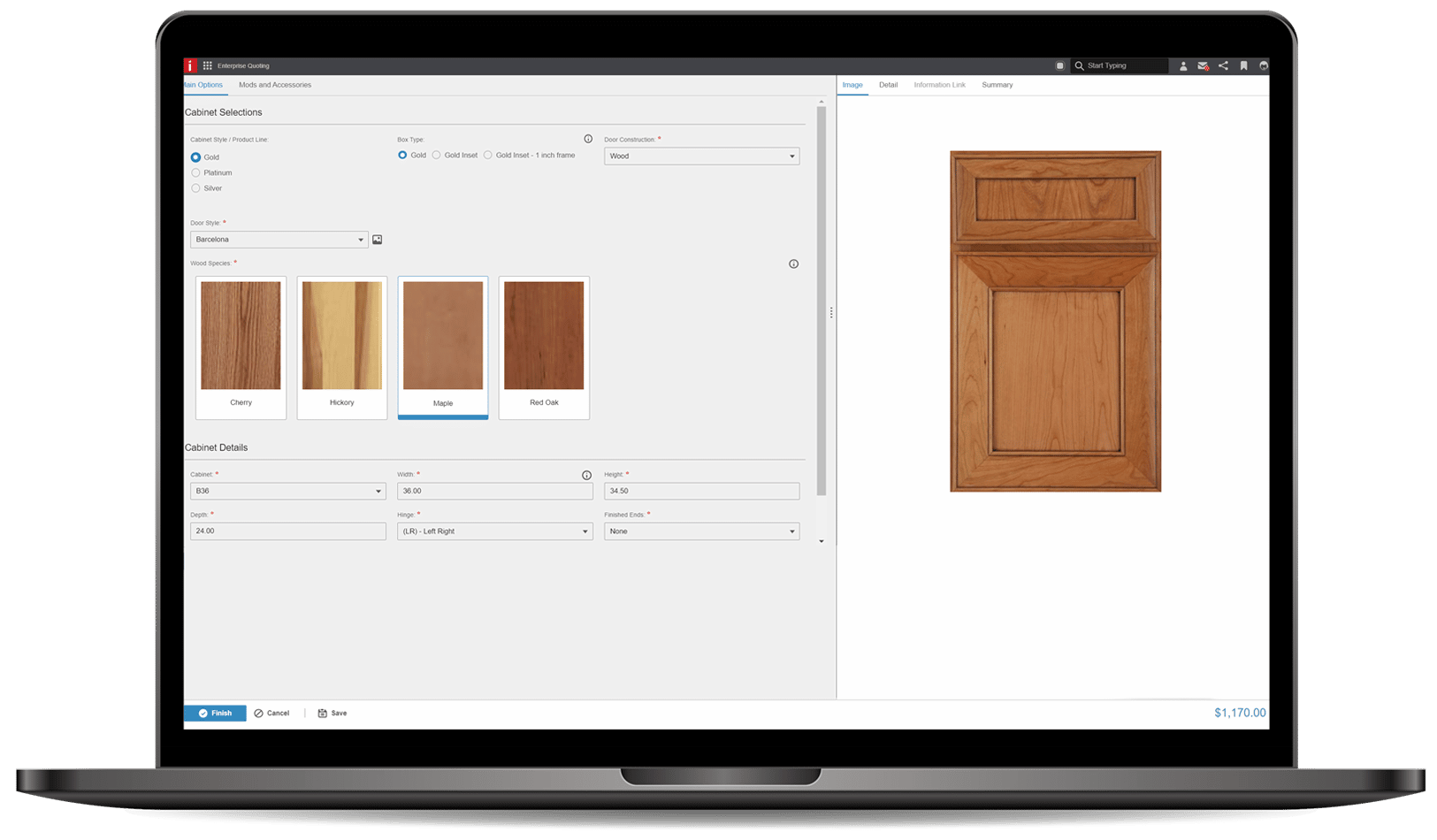 Helping you gain

 greater closing rates
To meet the ever-changing demands of the time, architectural industry manufacturers are feeling the pressure to offer even more custom options. These unique and complex options can all be neatly and efficiently presented and stored with Infor Configure Price Quote (CPQ).
The Infor CPQ tool offers businesses increased sales thanks to quick and correct quotes and an overall streamlined sales process. This also means greater close rates, reduced costs due to a lack of error/omission in pricing, and mitigated cycle times via electronic transfer to the manufacturer's ERP system complete with job BOMs, work instructions, and routings.
Infor CPQ provides solutions for cabinets, trim, molding, and flooring, custom metal forming manufactures, deck building manufactures, millwork, screen & shutter manufactures, and window and door.
Ready to talk with an industry specific technician?
Set up a convenient time for you to view options that best suit your needs.
Dive into CPQ for Architectural Supplies
Flexibility, agility, and innovation to stay ahead of the competition.
Complex Quoting Done Quickly and Efficiently
When you operate in custom orders and a zero finished goods inventory, you need to work with time because otherwise, it's not on your side. The CPQ tool can help you manage time and still offer countless options. The average residential double-hung window is so complex, it offers more options and constraints than nearly any other industry's product set. However, it still needs to be produced in a cost and time efficient manner in order to give customers what they want. Customers want custom, whether that comes in windows, counter-tops, cabinets, doors, etc., but they want it quickly. On average, from sales floor to shipping dock, a custom piece takes 72 hours. In order to make those 72 hours go smoothly, allow the Infor CPQ tool to streamline the work between sales and production.
Boost Material Sales with Infor CPQ
When quotes are created accurately and quickly, you'll see a boost in sales. Regardless of how complex the sale, Infor CPQ can increase accuracy for your architectural supply company thanks to its storage and step-by-step organization.
Increased Sales Performance
The training process becomes easier thanks to Infor CPQ. The streamlined step-by-step guided selling allows even a novice sales team member to guide a customer through each step and close the sale. Close-out discounts and manufacturer promotions are also generated through the tool, again streamlining the process and promoting accuracy and efficiency.
Accuracy in Distribution
Infor's CPQ tool simplifies the management of custom products and orders for lumber yards, wholesalers, architects, and other distributors. Using any device, a properly integrated quote can be generated for a customer, even calculating things like the volume, weight, and size of an order for shipping. With these innovative and diverse capabilities, Infor CPQ makes creating custom orders as easy and streamlined as possible.
2&3D Visualization Enhances the Sale
When a finished product is not available, give customers the next best thing like two-dimensional drawings or 3D renderings. Infor CPQ gives your sales team multiple visualization tools so that customers can select finishes, style, and hardware as though it were right in front of them. Sales team members can also display applicable product details, such as performance and energy data.
Easy Addition of New Products or Changes
When you're ready to show your customers the newest additions to your product line, the CPQ tool allows you to roll out products to market according to your timeline, quicker and more effectively. Update styles and pricing according to your production plan and needs.
Easy and Efficient Up-sell Opportunities
Thanks to information provided by guided selling, your sales team has the knowledge of options and opportunities for all budgets, meaning that there will be more opportunities to identify and offer high-margin options and increase profit. Throughout the process, customers can see just what they are spending, and sales reps will have a clear vantage of the projected profit.
Enhance the Customer Experience
Make custom orders of architecture supplies an easy, enjoyable experience, one where customers have faith in your sales team's knowledge and confidence that they will receive a quality product on time. Ordering will be organized and streamlined, and production will be detailed and accurate. Custom windows, moldings, and doors are created as requested, quickly and efficiently, in order to ensure customer loyalty.
Configuration As You Need It
Fully demonstrate your innovation and your ability to stand out against competitors. CPQ offers the flexibility to add or edit designs as you need in order to stay ahead of changing tastes and fashions, efficiency, and building codes. Alter design options or prices as needed while having the comfort of knowing that the CPQ will alert you to configurations that won't work.
Give Customers a Consistent Buying Experience
Regardless of how many people on your team a customer speaks with, ensure that they receive the same quality information. Infor CPQ ensures that every member of your team has access to the same information in order to give your customers an enhanced, consistent buying experience. From your website to the customer service line, everything is accurate and reliable. This consistency and cohesion will put your customers' minds at ease. Quality begins with customer service, and Infor CPQ allows your customers the best quality from the first meeting to the receipt of their custom architectural piece.
Give Customers Enhanced Visuals
How can customers really know what they should expect? Thanks to Infor CPQ's visualization tools, your customers can have access to 2D or 3D representations so they can see particulars like color, size, detailing in millwork, etc. and make choices that will excite them. This tool works to enhance the experience. Whether you're manufacturing doors, windows, cabinets, or any other building component, you will be able to provide customers with a dynamic sales proposal complete with accurate and detailing images and specs. These images will ensure the customer is ordering exactly what they need, as well as that production is created exactly what is ordered.