Give your marine vehicle sales team the tools to excel with CPQ.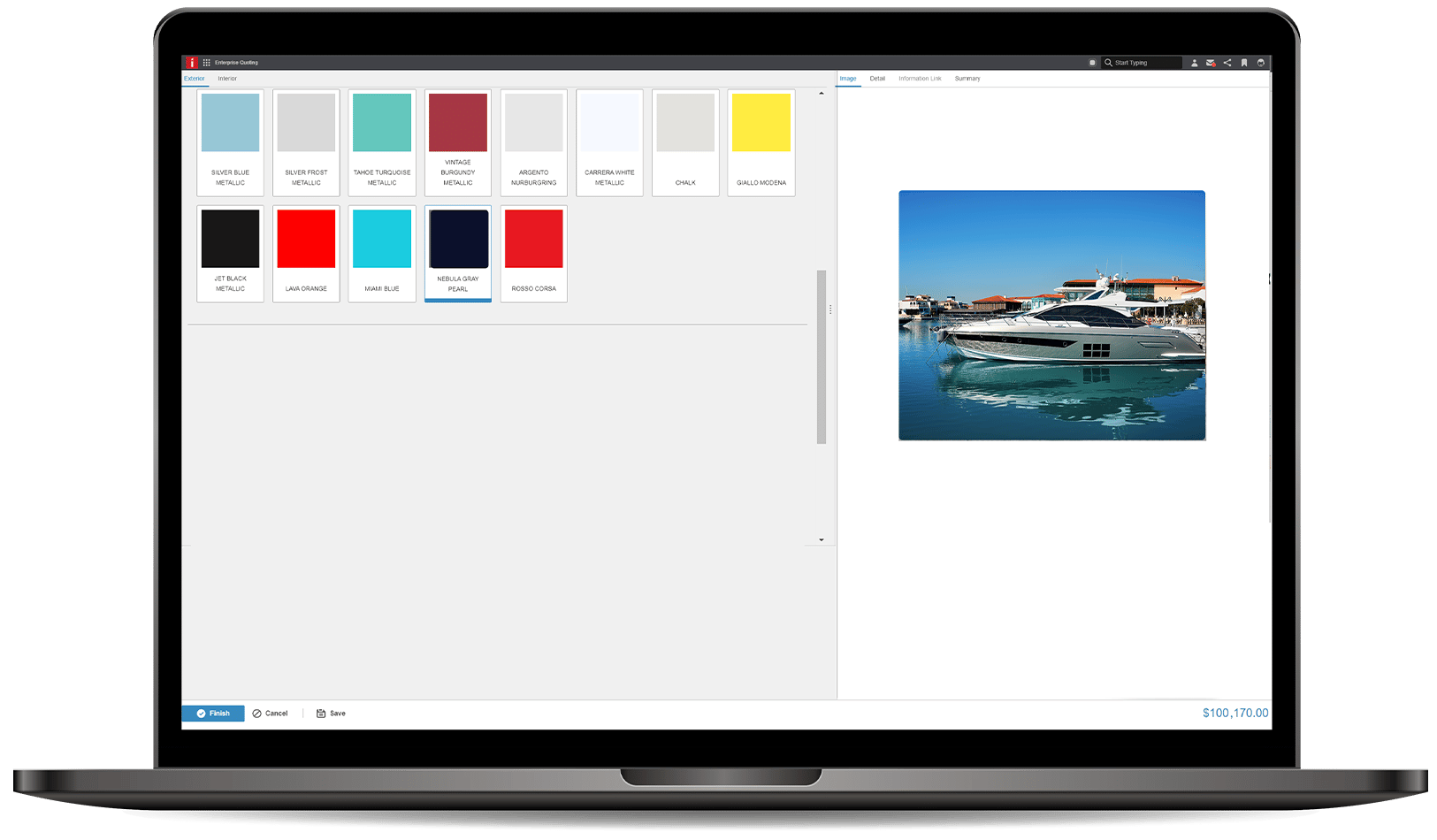 Customers respond

to quality
What causes a customer to not be loyal to a brand? Disappointment.
 Maybe a product took too long, or maybe when it arrived it was incorrect. No matter what specifications or to what degree a vehicle was uniquely modified, Infor CPQ allows your company to deliver a high-quality product that your customers expect. The CPQ tool allows you to verify exactly what a customer wants prior to the manufacturing phase, and it also links the bill of materials and manufacturing instructions directly to the verified ordered product. Finally, it sends that order directly to your company's ERP system for manufacturing.
 CPQ Is Perfect for Marine Sales and Manufacturing. Infor's Configure Price Quote for Marine Sales and Manufacturing allows your company flexibility, agility, and innovation to stay ahead of the competition and deliver to your customers the level of quality and efficiency they have come to expect.
Ready to talk with an industry specific technician?
Set up a convenient time for you to view options that best suit your needs.
Dive into CPQ for Boats & Marine
Flexibility, agility, and innovation to stay ahead of the competition.
Stay ahead of the clock
Infor Configure Price Quote (CPQ) provides a platform to manage the boat ordering process in a way that ensures the customer gets exactly what they want and need in a timely manner. There is a time frame where the dealer needs to finalize the configuration in order to begin production or cancel the order. However, the CPQ tool employs a rules-based configurator that monitors the lead-times of all the various features/options and alerts the dealer to "reconfigure" selected line-items in order to allow them to make the time-sensitive selections.
Save time and minimize waste with CPQ
A customer makes a number of decisions when it comes to selecting the perfect boat or marine craft. The CPQ tool will help you make sure that customers have made every last choice and that the order you deliver to that customer is precisely what they selected, when they expected it, and at the price agreed upon. Time, money, and effort are used effectively, and, most importantly, you'll have a satisfied customer.
Avoid human error by automating manufacturing instructions
Allow the software to do the hard work of dynamically creating bills of materials and manufacturing instructions. In addition, when integrated with your ERP system, these instructions can be stored with production orders. These instructions can be taken a step farther by having the system generate 2D drawings or 3D models of the craft to effectively demonstrate to the shop floor what is being built. This will, again, help your business to save on time by promoting a high level of efficiency.
Enhanced innovation, leads to loyalty
Ideally, you want to impress upon your customers that your company is innovative and agile. When your manufacturing business is flexible, adaptable, and innovative, customers trust that their needs will be met by you far better than any competitor. With Infor CPQ, the process is quickened and streamlined because your engineers have been relieved from the selling process, which means that their focus is back on the product and how to make it better and faster for the customer. Also, the system means that the sales team and customers do not have to sit around and wait on approvals. Answers and information are given in real-time.
Consistency for Customers
Often times in purchasing experiences, customers will interact with a number of people on your sales team. This could be due to days off, lack of experience, customers' delayed purchasing, etc. Boat buyers could be exploring options online while sitting on their couch, perusing options on their cell phone with a dealer while testing a boat, or speaking with the sales team on the phone. However, whenever your customer is reaching out for information, Infor CPQ makes sure that they get the same answers every time, everywhere. No matter who a buyer speaks to, whether it be a person from the shop floor or the sales floor, answers and information will be consistent. Buyers will feel reassured by this consistency and flow of access.