Give your apparel sales team the tools to excel with CPQ.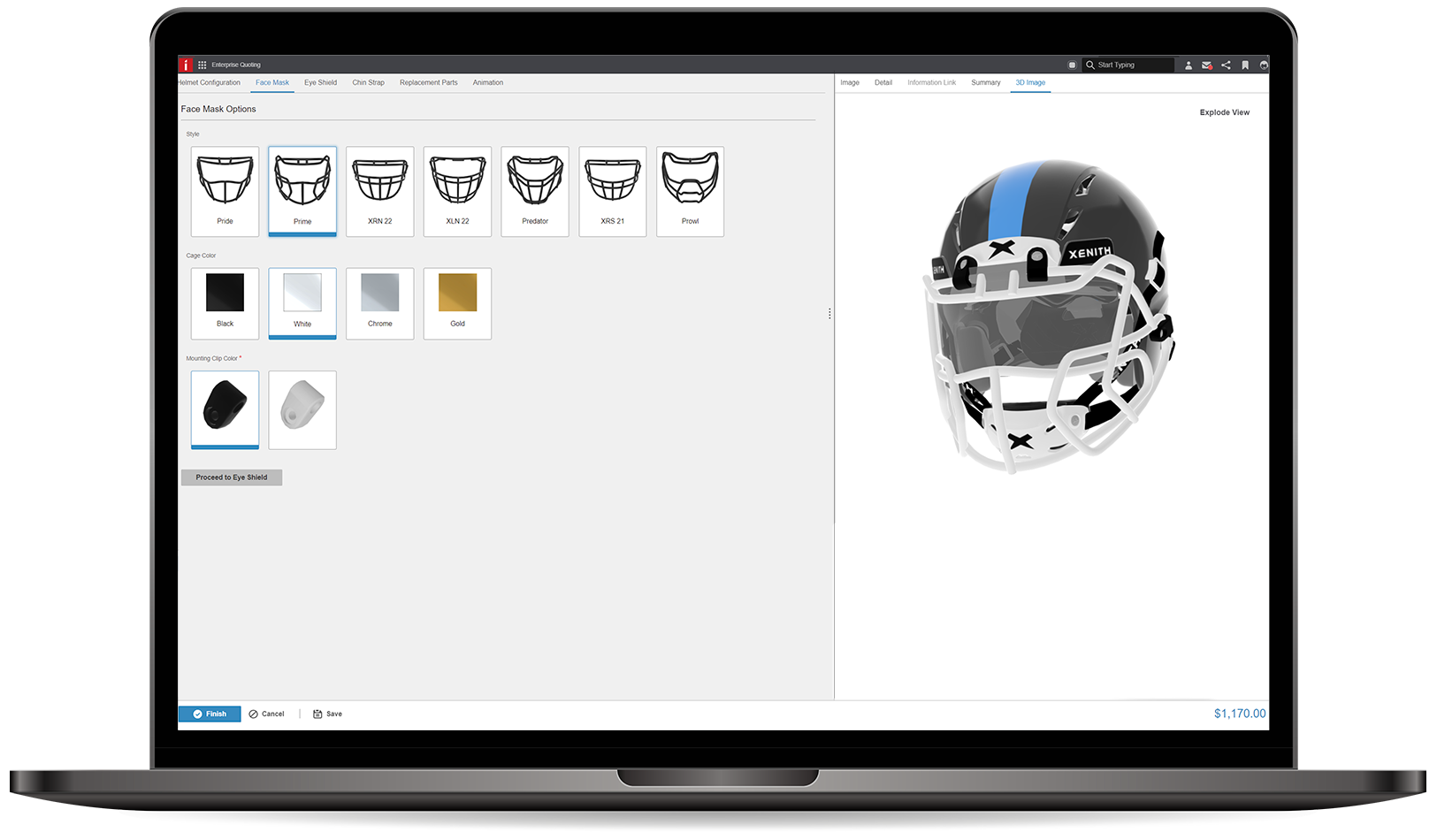 CPQ cuts out

any guess work
Help customers to see exactly what they are ordering thanks to Infor CPQ. Increase sales efficiency by giving your customers the tools to customize apparel, generate a quote, and place orders in real-time. Maximize product visualization with high-resolution, photo-realistic imagery and increase sales with CPQ for promotional and specialty apparel manufacturing.
Ready to talk with an industry specific technician?
Set up a convenient time for you to view options that best suit your needs.
Dive into CPQ for Apparel
Flexibility, agility, and innovation to stay ahead of the competition.
Making Ordering Visual and Convenient
Drive customers to your website and empower them to design and order on their time. Whether they need a polo shirt with a subtle work emblem or a silly slogan emblazoned on the front of a family reunion t-shirt, the CPQ tool allows buyers to see what they are getting long before it arrives on their doorstep.
Infor CPQ Can Save Time by Minimizing Training
By using Infor CPQ, new hires on your sales team will quickly learn quoting methods and best practices. The tool allows for experienced team members to share their knowledge on the CPQ platform, meaning that new reps only have to go to one place to find product information as well as to obtain better quote ratios and strategies. Additionally, thanks to the guided selling process, newer sales reps will walk through the sales process with the customer thanks to the step-by-step process the CPQ tool provides. This feature simplifies the complexity of adding accessories, such as jewels, embroidery, fabrics, colors, and types of printing. It can also guide users to select the best or most appropriate type of fabric, apply color(s), add accessories, and place text or images.
Keep Things Visual
Infor CPQ allows customers 2D and 3D configurations so they can see, realistically, what their apparel will look like. Stand out from competitors by letting customers know they are getting exactly what they want and driving their excitement from the beginning.
Easy Transitions
Have new products or options that you're excited for customers to explore? On your own schedule and timeline, Infor CPQ helps you quickly and efficiently roll out new products, options, and pricing electronically. You can also edit existing products or price changes as you utilize new strategies.
Efficient Upselling
Using guided selling features offered via the CPQ tool, sales reps can suggest high-margin options to improve the profit-per-sale. While the order is being configured, reps can see the projected profit and strive to meet your overall margin objectives while also meeting and exceeding a customer's needs.
CPQ Generates Accurate Production Instructions
Infor CPQ integrates with your ERP system so that instructions are provided with production orders. The visuals used to entice customer excitement can also be used to guarantee adequate production.
CPQ Reduces Labor Requirements
Infor CPQ cuts out any guess work so that your business can reduce the labor required to fulfill an order. The CPQ tool can operate under a rules-based BOM process to avoid the labor-intensive creation of thousands of versions. Manufacturing instructions need to be recorded only once, allowing your sales team to move on to the next project.
Fast and Accurate
With Infor CPQ, your apparel customers will receive exactly what they want at the promised time, which means customer loyalty despite a competitive market.